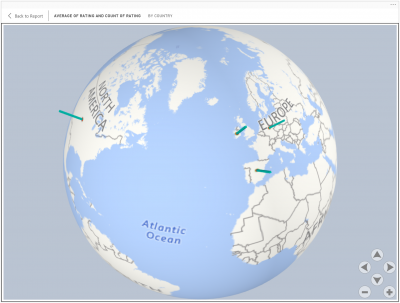 This article relates to our SFIA assessment, however the advice and guidance can apply to any online assessment process. Capturing a rating on completion of the assessment surveys provides excellent insights that can ultimately help improve your communication and awareness campaign, and of course, improve the survey process overall.
While not exactly our best kept secret, many of our customers have not yet exploited the survey rating data we capture. Everyone who completes a SFIA self-assessment is provided the opportunity to rate the experience and leave a review. This data is held anonymously and made available to administrators through our Enterprise Analytics.
Some of the insights you can get
When managing multiple company workspaces you can see the comparative ratings between the different companies. This can indicate differences in the awareness campaigns and/or culture and morale.
Based on our system wide analysis we recommend that if the rating drops below 3.5 (we use a 5-star scale) there is need for some investigation. The ratings are of course optional, and therefore we see some wide variances. There can be a Love it or Hate it mentality but less than 3.5 is a sign of generally poor morale in regard to the assessment process.
Use the Word Cloud from the optional comments to get a 'feel' for the sentiment of the respondents. Using our Analytics, if you hover it will show a count of the number of times a word was used. You can also click on words to filter the results. This will indicate whether the word was used in a positive or negative context depending on the filtered score.
Common themes that you may also uncover in your results
Some people just dislike completing structured surveys. This is OK, provided your communication and awareness campaign informs them of the options to fast-track the surveys, and then use their Planner interface to manage/edit their skill profile. Thus providing them with a real alternative. When they are not informed of the alternative, it can result in them giving a low survey ratings.
Ineffective awareness prior to sending the self-assessment invites. We often see comments suggesting that the participants did not understand 'why' they should complete a SFIA self-assessment. This is compounded if the online survey process was also not explained. We do provide tutorials to help participants understand the survey process that are available to you. It is paramount that everyone knows why they are involved.
Participants interpret the time estimates we provide during the survey as targets or limits and therefore they feel added pressure. This implies the awareness was not adequate. The time estimate is designed to help plan their time and schedule when to start surveys. It is NOT a target time against which they are measured.
For global organisations we also track language, country and location across the ratings. Therefore, we strongly recommend using these fields consistently in the person records to open another level of comparison.
At SkillsTx we track aggregated rating results, which we then use to improve our tutorials, survey guidance and overall survey experience. There are limitations on the question wording to ensure we stay true to SFIA, but otherwise we always make what changes we can to improve quality.
Here's an example of our Survey Rating page in the Analytics:
Our recommendations
Use our Enterprise Analytics to analyse the survey results and get an understanding for how the participants felt about the process.
Pay particular attention to the awareness campaign and whether this had an impact, good or bad.
DID YOU KNOW: You can use our self-assessment for FREE. Sign Me Up