There are many reports from analyst organizations that "The Great Resignation", or "The Big Quit" as it is also known, is real. Read on to see how you can get protection from the great resignation.
According to the US Bureau of Labor Statistics data 4 million people quit their jobs in July against a background of 10.9 million open positions.
Reasons you need protection from The Great Resignation
The Work Institute inform us that career reasons have continued to be the number one cause of employee quits since 2010. That's people leaving because of a lack of development opportunities! This figure decreased more than 8% in 2020, but rose 17% halfway through 2021.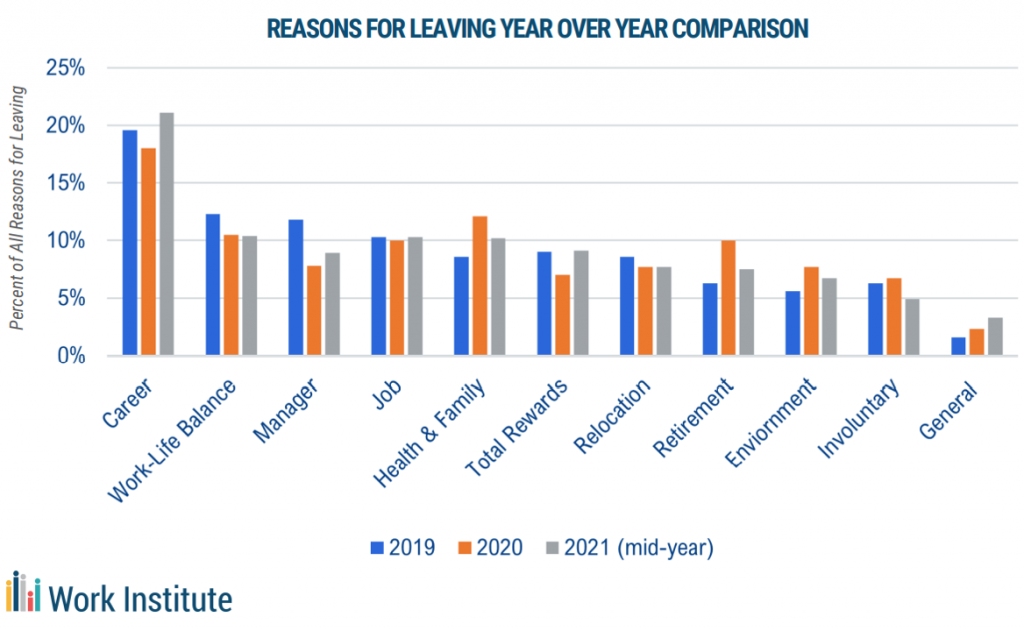 Importantly, the US is not alone. We're seeing the pattern around the world.
How does this affect the digital economy?
Diving deep down into the digital and technology area that is our focus, CIO.com have recently highlights 9 reasons good employees leave.
Not engaged
Management without the right skills
No room to grow – career development
No opportunity to keep skills current
No opportunity to develop new skills
Poor communication and feedback
Lack of flexible working
No clear mission or vision
Burned out
The consequences
People are leaving, often for the promise of better development opportunities elsewhere. They want the ability to keep their current core skills up-to-date and to develop new skills. On top of that, there is the issue of then finding replacement resources, as the skills shortage continues to grow. Robert Half recently published 4 hiring trends technology managers need to know:
Skilled candidates are hard to find

96% say it's challenging to find strong job candidates

Technology professional often have multiple job opportunities available to them

80% of technology managers say turnover increased at their company in 2021

Tech leaders are focusing on professional development

Employers are adopting programs designed to improve performance, productivity and retention
What can be done about getting protection from The Great Resignation
With shortages in the skills we need, it is essential to hold on to the good people we already have and ensure they continue to retain and develop their skills to fulfil skills we need. Vital ingredients for achieving this are:
A consistent skills and competencies framework – so we have a common language for defining these skills and competencies at the levels they are practiced in the work world. This is what SFIA gives us – recently updated to SFIA8 to reflect the latest skills and competencies across the technology-related specialisms.
Knowing which skills and competencies you have, using SFIA – it's a little like satellite navigation, in order for the system to plot or recalculate a route it needs to know where you are now. And it's no good just assessing people against the subset of skills in their current role/job – people are much more than their current job, they have other skills that you might need now or in the near future, skills that they will want to keep current.
Knowing which skills and competencies you need, again using SFIA – the satellite navigation system needs to know current location and next desired location in order to give you some route options and recommendations. Your skill requirements will change over time, so you need to keep those updated, and your current capabilities will change as you complete development activities and gain new working experience – so you also need an easy method of keeping your skills profile and action plan updated.
Gap Analysis and Analytics – having an accurate skills inventory (knowing the skills you have) and an up-to-date view of the skills you need (for roles/jobs/positions but also for projects, sprints and tasks), you can interrogate that data and use it to help make better decisions – who to deploy to a particular task, when people are ready for promotion, which skills they need to focus on to be fully competent in their current role, the people and skills related risks for your organization etc.
Career development action plans – once you know the gaps and development needs, you can create action plans. The plans will exist at multiple levels – individuals agreeing their development goals and getting support from their manager, Managers achieving the appropriate balance of skills across the team, Executives understanding core competencies and making decisions on which skills and competencies to build and which to source externally.
How SkillsTX can help give you protection from the great resignation
Help is available in the form of:
You can choose how you would prefer to go about this with the benefit of experienced guidance. To get your started, here are some simple actions that are quick and completely FREE:
For Organizations
Complete the Digital Skills Management Maturity (DSMM) Assessment (10 minutes)

To confirm the starting point for your organisation and get some free advice and guidance

Pick your preferred options

Including optional training & support

START!

Answer the key questions

What skills do we have?
What skills do we need?
For Individuals
Complete your own SFIA skills profile (45-60 minutes)
Compare your skills with industry defined roles
Create and maintain your own Development Action Plan