The SkillsTX Education series of SFIA based training is live
SkillsTX have been consistently the largest provider of SFIA accredited training across the globe and we have now launched our self-paced online eLearning through two Learning Management System (LMS) platforms:
1 – For SkillsTX License holders (includes those with FREE Personal licenses) – If you have a current SkillsTX license you can enrol HERE to register for the SkillsTX Education series. Many of the courses are available at NO cost. (Important: ENSURE you use the same email address as the one used for your SkillsTX login).
Note: If you don't have a SkillsTX license you can sign-up HERE for a FREE Personal SkillsTX license to unlock free training
2 – For Non License holders – For individuals that do not have a current SkillsTX License you can access our public training catalogue. Some courses are free of charge, others are pay as you go. Enrol HERE for our public training catalogue.
Why is understanding SFIA important?
Well, where do we start?
Foremost, it is vitally important that to get the most out of any framework you need to understand the fundamentals and structure as a minimum.
SFIA has become the globally recognised gold-standard for documenting digital skills. It is used by individuals, teams, organizations and even countries to document what skills they have and what skills they need.
It is being introduced into more and more digital skill supply chains to ensure consistency and quality of contract resources with some organizations mandating that their suppliers have SFIA profiles for their staff.
Education and professional bodies are using SFIA to underpin curriculums and memberships to help ensure employability of their students and members.
There is more information about the use of SFIA HERE.
Why use SkillsTX Education for your SFIA based training?
SkillsTX are accredited by the SFIA Foundation as a Global SFIA Training Provider.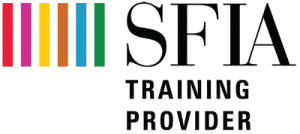 As the leader in SFIA accredited training we have trained 1000s of students over the years and have specifically designed our LMS to accommodate all levels of SFIA knowledge.
Whether you need to leverage SFIA to drive your personal career development or you are responsible for your organization's workforce planning, you are sure to find a course to suit you. In addition, when it is relevant, you can apply for a SFIA accredited digital badge to support your learning and development journey.
We will of course continue to schedule instructor-led courses for those who prefer direct interaction during the course in addition to self-paced eLearning.
I will be brutally honest, there are some very dubious uses of SFIA across our industry, the main reason being lack of knowledge. There are assumptions made that seriously undermine the real value proposition when implementing SFIA.
Address those dubious assumptions directly by using our training to ensure you have the correct knowledge to get the most out of your SFIA implementation.
As they say, Knowledge is Power.
Want to know more, browse our licensed user training catalog HERE or our public training catalog HERE